Central Himalaya Treks offers a range of different hikes that are suitable for novices and experienced hikers alike. Whether you have two days or two months to spend in the Himalayas, we can adapt and create itineraries that meet your needs. Thank you for reading the text below which gives you a general idea about the possibilities of trekking in Nepal.
Our agency, Central Himalaya Treks allows you to enter the less accessible areas on foot. We integrate in the design of our itineraries usually some campsites possible all year round.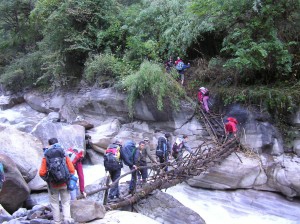 Besides that, we offer a stay for a few nights in hotels, inns or even cabins. Usually, dwellings are designed to be shared with one or more group members. However, individual accommodation can still be arranged upon request.
The best way to explore Nepal, a unique alliance of authentic and traditional natural beauty with a cultural richness, is the hike to the "organic" rhythm of the feet. Currently the trekking allows to enjoy the spectacular contrasts generated by altitudes and climatic conditions and also confronted with the equally spectacular mix of lifestyles, the wide variety of vegetation and fauna. More than 110,000 visitors go for trekking in Tibet, Bhutan and especially in Nepal.
In short, one can say that the trekking makes it possible to approach nature and to appreciate the beauties that allow the personal fulfillment. Some hikers have found that this is a good way for meditation, spiritual elevation to reach heavenly ecstasy. Nutritious and hygienic meals are prepared by our experienced cooks and are served in the closed dining tent with tables and folding seats or in a local dining room.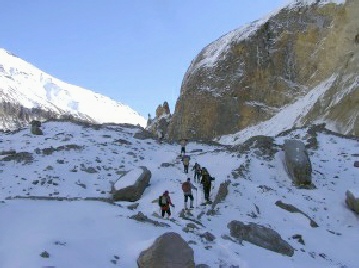 Our private guide shows the way, explaining the sites, traditions and natural history of the region.
A local staff is in charge of all the chores of the camp. If you want to enjoy a stay with the locals as well as the typical local Himalayan diet and a harmony with nature for a half day, we can offer you these options to better satisfy you.
During walk, your bag will only contain a camera, a water bottle and personal items. A team of animals (mules, horses or yaks) or porters will carry the rest of the equipment, including camping equipment and foodstuffs. Every day a walk of about 5 to 7 h should be considered